The Vineyard's art galleries may be one of the best entertainment values on the Island. Admission is free, all ages are welcome and no special equipment is needed.
Visitors to Edgartown's Winter Street Gallery can even enjoy the beach without getting sandy. In Sea Show, the current group exhibition, the ocean-inspired works of more than two dozen 20th and 21st-century artists are displayed on walls of bright sea-blue and towel white.
"It's a show that I've been thinking about for a long time," said Ingrid Lundgren, who co-founded the gallery in 2020 with partner George Newall.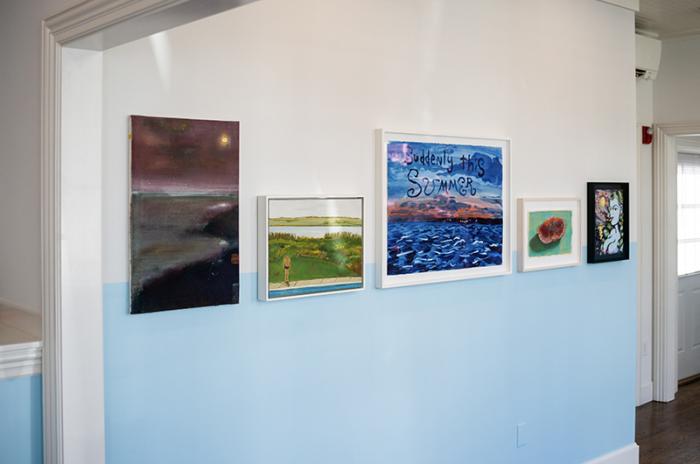 With 25 artists representing multiple generations, Sea Show is by far the most ambitious exhibition they have ever curated, Mr. Newall said. Previously, the largest number of artists in a group show was about 10, he said.
Some of the works were created specifically for Sea Show, the couple said, such as Yale-trained artist Alina Perez's colorful, jazzy drawing Under the Sea and Sam McKinniss's painting of a lobster dinner.
"We really encouraged some unexpected takes," Mr. Newall said.
Some of the artists have Vineyard ties or memories, the couple said. Islander Jack Yuen's Atlantic Mackerel has found a buyer, as has Katherine Bradford's Evening Stroll by the Sea, a tribute to the artist's childhood and discovering the joys of summer in Edgartown.
The gallery also brought in a 2018 drawing by Robert Longo, Study of Turned Over Ship of Refugees, and an untitled 2004 drawing by Carroll Dunham.
Other pieces in the show date back to the mid-20th century, including 1960s paintings by Jane Freilicher and Joseph E. Yoakum and a whimsical, untitled 1956 miniature by surrealist Gertrude Abercrombie depicting a snail shell on a beach with a tiny pennant.
Suggestive of new-media star Marcel the Shell without shoes on, the Abercrombie struck a resonant chord with one small gallery visitor, who drew a smiling snail in lieu of signing her name in the guest book. The little girl and her grown-up later returned to the gallery with another snail sketch, Ms. Moore said.
Winter Street Gallery is open Wednesday through Sunday from noon to 5 p.m. and online at winterstreetgallery.com.
Around the corner on North Water street, Eisenhauer Gallery celebrates music as well as art, hosting free concerts in the Vineyard Square courtyard every Thursday and Sunday from 6 to 8 p.m. with danceable Island bands including Mike Benjamin and the Keepers, and Johnny Hoy and the Bluefish.
Inside the gallery, among paintings, sculptures and fine art jewelry curated by owner Elizabeth Eisenhauer, the mixed-media portraits of Janice Frame irresistibly catch the viewer's eye with the level gaze of their African American female subjects.
Ms. Frame, a revered former art teacher at the Martha's Vineyard Regional High School, was a soft-sculptor when she came to work at the gallery as a salesperson a number of years ago, Ms. Eisenhauer said.
"She showed me the dolls that she had made, the beautiful half-life-size dolls, and I remember saying to her, 'If only you could paint your dolls,'" Ms. Eisenhauer said. "And then she created this collection … She's applying paper, jewelry, shells, paint, photography."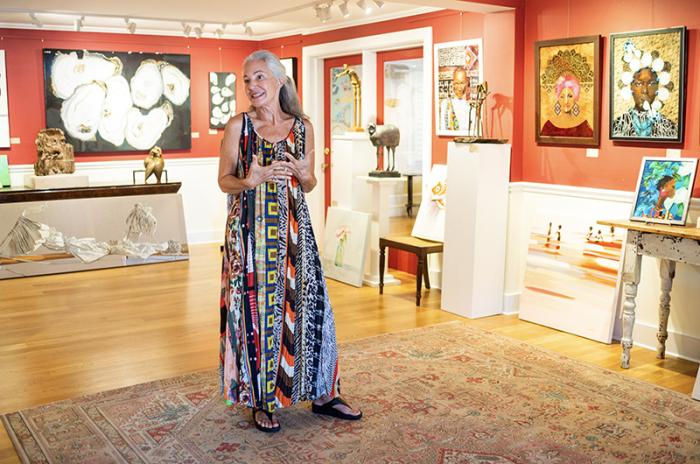 Alongside Ms. Frame's Afrocentric portraits, Eisenhauer Gallery is filled with colorful works such as a zebra in a red bathtub by Santiago Garcia, who also paints Crayon-bright Converse sneakers and the occasional smoky abstract. Here, too, the sea is invoked, in swimmer paintings by T.S. Harris and mixed-media fish by Adair Peck.
Eisenhauer Gallery is open from 10 a.m. to 6 p.m. Monday to Wednesday and from 10 a.m. to 9 p.m. Thursday to Sunday and online at eisenhauergallery.com.
In Oak Bluffs, Knowhere Gallery on Dukes County avenue is showing works by Maria-Lana Queen while its sibling Center of Knowhere on Circuit avenue has a solo show by Charly Palmer, both up through Sept. 11.
Ms. Queen is a mixed-media artist from Washington, D.C. who has developed a personal language of visual metaphors in her work, often using bright primary colors and images of Black children.
Mr. Palmer's images celebrate Black joy on the Vineyard through portraits such as Making Memories on the Beach, in which two children in swimsuits are sprouting a summer flower garden from their hair.
Knowhere and Center of Knowhere are among the galleries of Arts in OB, a coalition centered largely around the Dukes County avenue arts district with a website at artsinob.com. The group holds its final summer art stroll Sept. 3 from 4 to 7 p.m.
Granary Gallery in West Tisbury is uniquely family-friendly, offering kids a scavenger hunt — complete with prizes — to find painter Thomas Hart Benton's Sea Phantasy I, sculptor Jay Lagemann's Swordfish Harpooner, a carved-wood cormorant by Wendy Lichtenstein, and other works in the collection.
This is not a gallery to drop by quickly on the way to somewhere else. Open daily year-round, the Granary is packed with fine art, folk art, crafts and antiques as diverse as vintage West African textiles, old tin toys and Scottish ceramic carpet balls for Victorian-era indoor bowling.
The eclectic main gallery gives way to smaller spaces, one devoted to photographer Alison Shaw — a longtime Granary artist who also has her own gallery in Oak Bluffs — and another to photographers Alfred Eisenstadt, David Fokos and Bob Avakian.
Through August 28, the gallery is featuring new paintings by Heather Neill and bronzes by Don Wilks, as well as paintings by Wolf Kahn and Milton Avery. The Granary also recently added Steve Datz to its roster of artists. The brother of Island painter Margot Datz, Mr. Datz has several works on display at the gallery including a dynamic, Pollock-esque abstract, titled Sharks in the Water, and two large mixed-media sculptures in his Sirens series.
Like the sirens that menaced Odysseus and his crew, Mr. Datz's figures are maritime, female and imposing. But these Sirens beguile the eyes instead of the ears — their buoy heads have no mouths to sing.
Just over the West Tisbury town line in Chilmark, the Kara Taylor Gallery is hosting a show by Adrian Smith, a stone carver who learned his craft in Nepal. Working with natural cleft slate from New York and Vermont and roofing tiles salvaged from old barns, Mr. Smith crafts enduring images of the natural world: hawks, herons, fish and other creatures.
The gallery also is showing outdoor steel sculpture by Brian Abbott. Both artists are longtime Vineyard friends of Ms. Taylor's, she told the Gazette by email. A reception is planned for August 27.
Ruel Gallery in Menemsha concentrates on the work of two Island artists, painter Colin Ruel and jeweler Nettie Kent. The couple, who are married with two small children, opened the gallery two years ago in the former shop of Mr. Ruel's grandmother Roberta Morgan, who was famous for her beach plum jelly.
This season's crop of new paintings by Mr. Ruel includes a large-format Menemsha image titled Last Sunset that takes up much of the gallery's back wall.
"I haven't done a painting that big in a couple of years," Mr. Ruel said.
Mr. Ruel also has branched out into knife-making, creating carbon steel and brass oyster-shucking knives whose handles of Chilmark maple are inset with bits of swordfish sword and ebony, the latter from an 1850s wreck off Cuttyhunk, he said.
The gallery also has added a line of logo shirts and swordfishing hats. The long-billed hats come from Quaker Marine Supply, the Philadelphia company that made them in the 20th century and has since been sold and moved to Brooklyn, Ms. Kent said.
Staffed by the artists, Ruel Gallery is open Tuesday through Sunday from 11 a.m. to 5 p.m.
Vineyard Gazette 08/18/22
https://vineyardgazette.com/news/2022/08/18/island-galleries-welcome-kids-collectors